Every day, packages are delivered to doorsteps across the city of Athens. Drivers from companies like Amazon, UPS, and FedEx handle these deliveries, but not all of them are safe behind the wheel. A delivery driver's negligence can lead to a dangerous, life-changing collision.
Accidents involving delivery vehicles can be frightening. If you or a loved one were injured by a delivery driver, the attorneys at Dan Chapman & Associates can help. These types of commercial vehicles carry big insurance policies. You should never attempt to handle one of these claims on your own because the commercial insurance companies use highly trained adjusters to try to quickly settle your case for pennies on the dollar before you can seek legal help. Our law firm has the experience you need with these claims to help you secure a full and fair settlement on your injury claim.
Why Choose the Delivery Accident Attorneys at Dan Chapman & Associates?
With over 100 years of legal experience and millions of dollars recovered for our clients, you can trust our attorneys to aggressively represent your delivery accident claim.
Our injury lawyers in Athens are former insurance attorneys and understand the tactics that these companies often use. We will leverage this knowledge to support your right to recovery.
Our firm accepts injury cases on a contingency fee basis. You will only be charged legal fees after our lawyers secure a settlement or jury verdict in your case.
Delivery Truck Accidents Cause Serious Injuries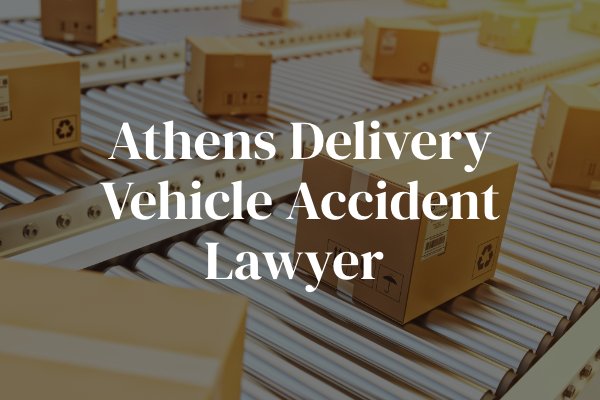 Delivery drivers from major companies often drive vehicles that are larger and heavier than the average car. As a result, collisions between a delivery truck and a passenger car, bicycle, or pedestrian can cause serious injuries.
The injuries we typically see from these accidents include:
Traumatic brain injury
Spinal cord injuries and paralysis
Internal organ damage
Cuts, bruises, and abrasions
Herniated discs in neck or back
Broken bones and fractures
Legal Options for Victims of Athens Delivery Truck Accidents
If you were injured by a delivery truck driver, you are entitled to financial compensation. Georgia is a fault accident state that requires negligent drivers to pay for any damages that they cause. Depending on the cause of your accident, you could pursue an insurance claim or a personal injury lawsuit.
Package delivery companies typically provide insurance coverage for their drivers, which covers any accidents that occur while they are on the job. If the delivery driver is responsible for the collision, you could pursue a claim against the corporate policy.
In some situations, you could escalate your claim to a lawsuit against the driver in civil court. If the driver was an employee of the delivery company, you could name the entity in your lawsuit as well. However, if the driver was an independent contractor, the company would not be liable for the collision.
Compensation Available in Delivery Truck Accident Claims
Through a delivery truck accident claim, you could recover a settlement to help pay for the financial, physical, and emotional losses that you experienced in the accident. An attorney from Dan Chapman & Associates can help you identify all possible avenues to compensation and calculate your potential award.
Below are a few examples of damages available in delivery truck accident claims:
Past and future medical expenses
Lost wages and a loss of future earnings
Property damage
Chronic pain
Emotional distress
Depression
Anxiety
Loss of quality of life
Post-traumatic stress disorder
Contact an Athens Delivery Vehicle Accident Lawyer Today
If you were injured by a negligent delivery driver, the attorneys at Dam Chapman & Associates can help you hold him or her accountable. Our Athens accident attorneys will fight diligently for your right to compensation.
Contact us today to discuss your legal options with an Athens delivery vehicle accident lawyer. You can call our offices at (678) 504-8564 or fill out our online form to schedule your free consultation.