Driving while under the influence of alcohol or drugs is highly illegal and extremely dangerous. Unfortunately, many drivers continue to make these dangerous decisions, causing serious wrecks that lead to serious injuries and even deaths.
If you were injured by a DUI driver, you need to speak with an experienced attorney who knows how to hold the driver at fault and obtain maximum damages for your claim. In addition to recovering compensatory damages, we help our clients recover punitive damages against the DUI driver. These punitive damages are a form of monetary punishment paid by the DUI driver's insurance company to maximize your recovery. In these DUI accident cases, the Athens accident attorneys at Dan Chapman & Associates will help you secure the maximum compensation that you deserve.
Why Choose the Attorneys at Dan Chapman & Associates?
With over 100 years of combined legal experience, our attorneys have the skills, knowledge, and resources necessary to represent your DUI injury claim.
Our firm will work tirelessly to maximize your settlement or verdict. We have recovered millions of dollars for injured people across the state of Georgia.
The aftermath of a DUI accident can be very painful. Our firm will take care of all matters regarding your case so that you can focus on healing and treatment.
The Dangers of Intoxicated Driving In Athens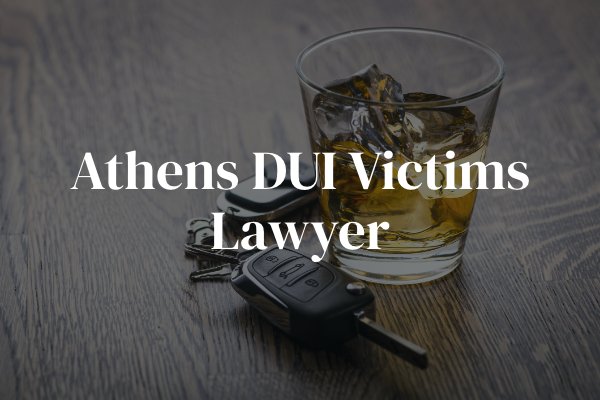 Alcohol and drugs are mind-altering substances and will impair many of the bodily functions needed to drive a vehicle safely. Alcohol and drugs impair the motor skills needed to safely drive, impair the mind from making sound judgements, lower the ability to concentrate on the road, and delays reaction times.
Impaired driving in Georgia leads to many devastating injuries and fatalities every year. According to the Georgia Governor's Office of Highway Safety, alcohol-impaired driving led to 402 deaths in Georgia in 2020 alone.
Your Legal Options as a Georgia DUI Accident Victim
Drunk drivers not only commit a crime by getting behind the wheel while drunk—they also violate their duty to drive safely and follow traffic laws. Georgia is a fault-based accident state that requires negligent drivers to pay for any accidents that they cause. If you were hit by an intoxicated driver, you have the right to file an insurance claim or lawsuit against that driver.
By filing a claim against the DUI driver, you can recover money to help pay for the damages, harms and losses you suffered. These damages, harms and losses may include:
Medical expenses
Lost wages
Loss of future earning potential
Property damage
Disability accommodations
Pain and suffering
Funeral and burial expenses, in the case of wrongful death
Do You Need a Lawyer for a DUI Accident Claim?
Pursuing a lawsuit against an impaired driver can be a process. There is a crash report and an arrest report to examine. Often, there are also toxicology reports to analyze. If you find yourself in this situation, you need an experienced lawyer on your side who can guide you through each stage this investigation to maximize your recovery.
At Dan Chapman & Associates, our injury attorneys in Athens can help you navigate the litigation process and recover the settlement that you deserve. A DUI accident lawyer can leverage his or her skills, experience, and resources to craft a compelling claim in your favor. Your attorney will negotiate with insurers on your behalf, calculate your potential settlement, and prepare your case for settlement. Since some of our lawyers are former insurance company lawyers, they know what to look for to get you a top settlement.
Contact an Athens DUI Victim Injuries Lawyer
If you were injured by an intoxicated driver, you deserve justice! At Dan Chapman & Associates, our attorneys fight aggressively to hold DUI drivers accountable and to recover the maximum compensation for our clients. Contact us today for a free case consultation with an Athens DUI accident attorney.