Food delivery services are very popular in Athens, Georgia. Some of the more common ones are GrubHub, Uber Easts and Door Dash. Also, pizza companies employ delivery drivers to deliver pizza across town. Delivery drivers typically work as independent contractors for these companies and receive little to no formal training. These drivers are also normally in a hurry to get to a location because time is money. The faster the delivery, the bigger the top and the more deliveries they can make in a day. As a result, these drivers often make careless errors and their negligent driving mistakes cause big accidents.
If you were injured by a food delivery driver, the attorneys at Dan Chapman & Associates can help you navigate the complex legal landscape and identify your optimal path to compensation. We will help find the insurance that is needed to pay your claim. Call an Athens accident lawyer today at (678) 504-8564 to take your first steps toward justice.
Why Choose Our Athens Food Delivery Attorneys?
Our lawyers hold over 100 years of combined legal experience and have recovered millions of dollars for injured people. We have the skills and knowledge necessary to represent your food delivery accident claim.
Being involved in an unexpected accident can be a scary experience. Our firm will handle all aspects of your claim on your behalf so that you can focus on recovery, not litigation.
Our Athens injury attorneys take all cases on a contingency fee basis to limit your out-of-pocket costs. You will not be charged any legal fees up front, and you will owe nothing unless we secure a settlement in your case.
Food Delivery Companies That Serve the Athens, GA Area
Many establishments use food delivery services to provide takeout meals for their customers. In addition to independent delivery offered by individual restaurants and catering services, there are several larger corporations that serve the Athens, GA area.
These food delivery services include:
Grubhub
Door Dash
Postmates
Uber Eats
Instacart
Dominos
Papa Johns
Pizza Hut
Who Is Liable for a Food Delivery Accident?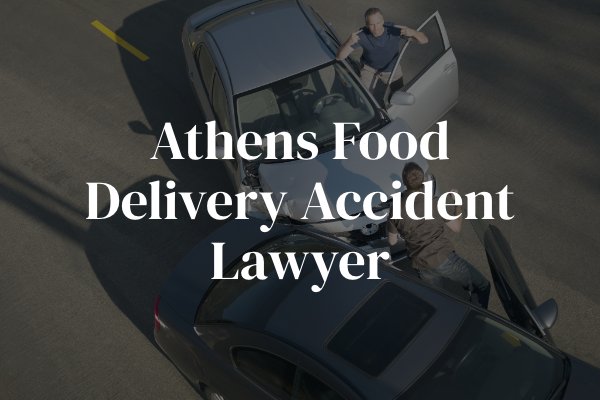 Most people's first concern after an accident is who pay for the damage done. Georgia law requires all drivers to carry liability insurance, but the minimum coverage is $25,000 per person. Many insurance companies will not allow their insured to use their personal insurance when driving for a food delivery company and will deny coverage if there is a crash during a delivery. For this reason, we look for commercial insurance to pay for the injuries, harms and losses suffered by our client.
For example, Uber Eats will provide up to $1 million in liability coverage if the driver was fulfilling an active delivery at the time of the collision. However, if the driver was not logged into the Uber Eats app, there may just be $25,000 in liability coverage available if they don't still try to deny coverage. For these reasons, you need an experienced attorney on your side.
What to Do After a Food Delivery Accident in Athens, GA
Being involved in any type of collision can be a scary experience. It can be difficult to know what to do next in any situation, but food delivery accidents are even more complex. After a collision, it is important to seek help, preserve evidence, and contact an experienced food delivery accident lawyer right away:
Call 911 to report the accident to law enforcement.
Seek medical attention as soon as you can and save your healthcare records.
Exchange your information with the food delivery driver.
Take screenshots of the delivery app or ask the driver to confirm his or her status.
Gather evidence by taking photographs and asking witnesses for their contact information.
Schedule a consultation with an attorney from Dan Chapman & Associates.
Contact Dan Chapman & Associates Today
If you were injured in an Athens food delivery accident, the attorneys at Dan Chapman & Associates can help you recover the maximum compensation that you deserve. 
Contact us today to schedule your consultation and identify your optimal path to compensation.