If you or a loved one has been involved in a motorcycle accident in Athens, Georgia, or the surrounding area, you may be faced with uncertainty about your future. You are most likely dealing with painful injuries, expensive medical bills, lost wages, and other sources of stress since the crash. The insurance company handling your claim may make things worse by trying to convince you to settle for as little compensation as possible.
If you feel overwhelmed in the aftermath of a motorcycle accident, the Athens injury attorneys at Dan Chapman & Associates, LLC, can help you tackle the challenges that you are facing. We can help you reclaim your life as an injured motorcyclist. Speak to our motorcycle accident lawyers today during a free consultation for more information. Call (678) 504-8564.
Athens Motorcycle Accident Resources:
How the Right Attorney Can Help Motorcycle Accident Victims in Athens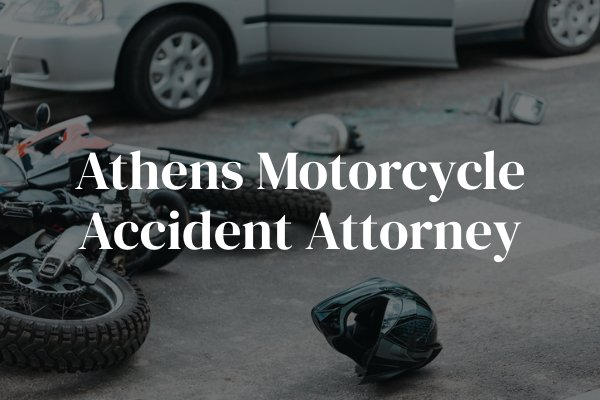 After a motorcycle accident in Athens, you may not know who you can trust. The other driver's insurance company and even your own carrier may try to take advantage of you to save themselves money. You may also be fielding phone calls from insurance claims adjusters and bill collectors. Contacting a motorcycle accident lawyer in Athens can give you a trusted source of information, advice, and legal advocacy. Your lawyer can take care of the crash investigation, evidence collection, and settlement negotiation on your behalf while you concentrate on healing. Your lawyer will be dedicated to helping you get past your accident in every way possible.
Why Do Motorcycle Accidents Happen in Athens?
At Dan Chapman & Associates, LLC, we are passionate about improving the safety of motorcyclists in Athens and throughout Georgia. We stay up to date on all of the latest motorcycle crash statistics, as well as the most common causes of these collisions in our community, in the hopes of helping to prevent these tragedies in the future. The top causes of motorcycle accidents in Athens include:
Texting and driving
Alcohol involvement
Failing to yield
Unsafe left-hand turns
Red-light running
Following too closely
Aggressive driving
Sudden lane changes
These are all examples of driver errors that increase the risk of devastating motorcycle accidents. These collisions can also be caused by environmental factors that are particularly dangerous for motorcyclists, such as road hazards, potholes, loose gravel, and inclement weather. If you were driving an automobile at the time of the accident, please reach out to our Athens car accident lawyers today.
Common Injuries Suffered in Motorcycle Accidents in Athens
Motorcycle accidents can result in severe to catastrophic injuries for a rider and his or her passengers. Motorcyclists are relatively unprotected, and therefore at risk of more severe injuries than passenger vehicle occupants, on average. Common examples of motorcycle accident injuries include:
Broken bones
Lower extremity injuries
Skull fractures
Soft-tissue injuries
Muscle strains
Lacerations and road rash
Burns
Internal injuries
Wrongful death
The attorneys at Dan Chapman & Associates, LLC, know how to structure a personal injury claim so that it provides the best possible odds of a client obtaining maximum financial compensation for injuries and related losses. When results matter the most, trust us with your motorcycle accident case in Athens.
What Kinds Of Financial Compensation Is Available?
In Georgia, the motorist or person most at fault for causing a motorcycle accident is who must pay for medical bills and property damage. Successfully holding someone else responsible for a motorcycle crash in Georgia could result in a payment to reimburse you for several associated losses, including your present and future medical bills, motorcycle repairs or replacement, lost wages, pain and suffering, and attorney's fees. Discuss the value of your case with one of our lawyers today.
Determining Fault in an Athens Motorcycle Accident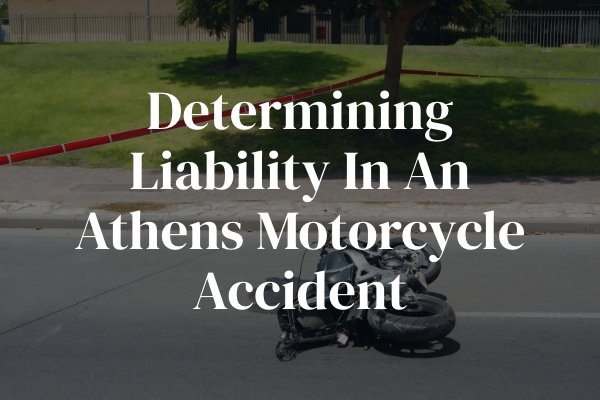 Before pursuing a motorcycle accident claim, you need to understand what an insurance company will need to see before they pay a claim.  Georgia is a fault-based accident state, meaning that people whose actions cause motor vehicle accidents, including motorcycle crashes, are financially responsible for any damages they cause. To recover compensation from the negligent driver, you will have proof that the driver's negligence caused the motorcycle to crash.  
Who Can Be at Fault for a Motorcycle Accident?
Several factors can lead to motorcycle accidents.  Factors may include negligent drivers, neglected roads, and defective vehicle parts. As a result, many parties could be held liable for a motorcycle crash.  Depending on the cause of your accident, you should be able to make a claim on the at-fault parties' liability insurance policy and maybe even additional insurance policies.  
A Motor Vehicle Driver: In Georgia, drivers have a responsibility to follow traffic laws and safely operate their vehicles. If a driver commits a negligent act like speeding, drunk driving, or running a red light, he or she would be liable for any accidents that they cause.
The At-Fault Party's Employer: If your collision was caused by a commercial truck driver, delivery driver, or another person who was working at the time of the accident, his or her employer may also be liable. This is due to the theory of law known as vicarious liability, which states that companies are responsible for the actions of their employees while they are on the job.
A Product Manufacturer: Some motorcycle accidents happen due to a defective product, such as a motorcycle or vehicle part that fails. In this situation, you could file a claim against the manufacturer and, in some cases, the distributor and retailer.
A Government Agency: Motorcycles are more vulnerable to road defects, like loose gravel, potholes, and poorly designed roads. If your accident was caused by hazardous road conditions, you could file a lawsuit against the government agency that was responsible for maintaining that road.
The scene of motorcycle accidents can be chaotic, so it can be difficult to identify the liable party and all insurance companies who might have coverage. In these situations, an experienced motorcycle accident lawyer can help you investigate the accident and make a claim against all responsible parties for full compensation
Comparative Negligence in Georgia Motorcycle Accident Claims
As a motorcycle accident victim, you are entitled to the full value of any damages that you suffered in the crash.  At the conclusion of your insurance claim or lawsuit, you can secure financial compensation to help pay for these harms and losses, such as medical care, damaged property, lost wages, and pain and suffering. However, your award could be reduced if you were found to be partially responsible for the accident.  You can be sure that an insurance adjuster will want to try to find a way to point the finger at you, even in what seems like a clear case.  That is why it is important to speak to an experienced motorcycle accident lawyer BEFORE you talk to the insurance company.  Things you say in a recorded call may sound innocent to you but is not to a trained insurance adjuster who can flip them around and use them against you.   
Under Georgia's comparative fault laws, the court will assign a percentage of fault to any plaintiff who contributed to the cause of an accident. The plaintiff's settlement will be reduced by this percentage of the fault number. If the plaintiff is found to be 50% or more liable, he or she would not be eligible to recover any compensation.
For example, say that you request a $100,000 settlement and the court finds you to be 40% at fault. You would only receive $60,000 (60%) in this situation. If you were found to be 70% at fault, you would not recover a settlement at all.

Motorcyclists often face unfair stereotypes and assumptions when filing a claim. It is not uncommon for unfounded accusations of fault to arise. To protect your right to compensation, it is very important to have an attorney on your side who can defend you from these accusations and fight for your right to recovery.
What to Do After a Motorcycle Accident in Georgia
The moments after a motorcycle accident can be overwhelming and painful. Your case's outcome, however, will heavily depend on how you handle these moments. Getting help, gathering evidence, and contacting an attorney as soon as possible are crucial steps to recovering the compensation that you deserve.
Call 911 and Report the Accident
One of the first steps that you should take after a motorcycle accident is to call 911 and report the accident to the police. When a law enforcement officer responds to the collision, he or she will create a report that will include important information about the accident. You can use this document as evidence in your case.
When the officer arrives, speak to him or her if you are able and provide any facts about the accident that you can remember. Collect the responding officer's information so that you can find the report after you seek medical care.
Gather Evidence from the Scene
If you can move around the area safely, you should also collect evidence from the scene of your motorcycle accident. Take as many photographs and videos as you can of any injuries, property damage, traffic signs, or debris in the area.
Approach any witnesses and ask for their contact information. You should also exchange your license, insurance, and contact details from anyone who was involved in the accident.
Seek Emergency Medical Treatment
After a motorcycle accident, it is critical to seek medical attention as soon as you possibly can. These collisions can cause very serious injuries that can get worse without treatment. In some cases, these injuries do not show any symptoms for a few hours or days following the accident.
To avoid potentially dangerous complications, go to the hospital as soon as you can. Collect all of your medical records from every facility where you receive treatment. You will be able to prove the nature and extent of your injuries with these documents, which will be crucial evidence in your case.
Do Not Speak to an Insurance Representative
After an accident, it is common for insurance representatives to contact victims and ask them for a statement. At this stage in your case, you may not know all of the facts about the accident. However, any statement that you provide could be used against you if you learn new information later on.
An insurer could point to any inconsistencies as evidence that your injuries are not as serious or that the accident happened under different circumstances. If you are approached by an insurance company, decline the request and speak to an Athens motorcycle accident attorney instead.
At Dan Chapman & Associates, we offer free consultations to people who have been injured due to no fault of their own. Most of these are done over the phone, so you do not even need to leave your home to speak to an injury lawyer. At these free meetings, we review the facts of your case, discuss our legal services, and provide our opinion on how to proceed with getting you help for your injuries, getting money for your damaged car, and on the things you need to know about dealing with an insurance company. Some of our lawyers formerly worked for insurance companies.
Speak to an Experienced Athens Motorcycle Accident Lawyer
If you or someone you love has been injured in a motorcycle accident in Athens, we can help. Dan Chapman & Associates, LLC, has been representing motorcycle accident victims throughout Georgia since 1993. We will treat you as we would one of our own family members, alleviating as much stress as we can during this difficult time while fighting for maximum financial compensation on your behalf. Find out why thousands of Georgia residents have chosen us to represent them during their injury cases. Request a free, no-obligation consultation today at (678) 504-8564 or by contacting us online.