Many people throughout the Athens area rely on rideshare apps like Uber and Lyft. While these services advertise a safe, affordable ride, serious accidents involving rideshare drivers occur every year. These collisions often lead to serious physical injuries, financial hardship, and emotional trauma.
If you were injured in an Athens rideshare collision, the experienced rideshare attorneys at Dan Chapman & Associates can help you recover the compensation that you deserve. Our lawyers are dedicated to fighting for the rights of injured people across Georgia and will guide you through each stage of litigation.
Why Choose Our Athens Rideshare Accident Attorneys?
With over 100 years of combined experience, our lawyers have a deep understanding of Georgia personal injury law and can help you navigate a complex rideshare accident case.
Our firm is committed to securing the highest possible settlement for our clients. Over the years, we have recovered millions of dollars in settlements and jury verdicts.
Our firm believes in open and honest communication. Our Athens injury lawyers will take the time to learn your story and will be available to answer any questions that you may have.
Who Is Liable for a Rideshare Accident?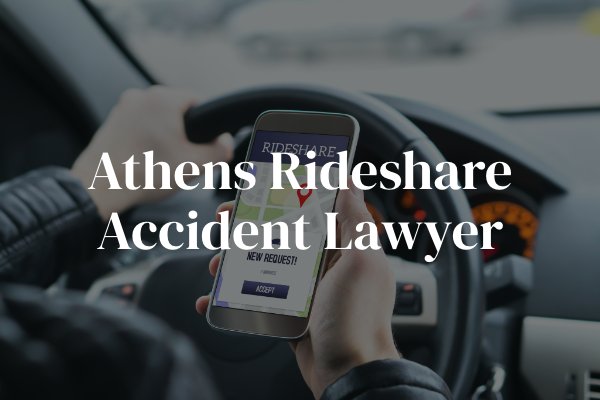 Georgia is a fault accident state, which means that negligent drivers are financially responsible for any collisions that they cause. When an accident involves an Uber or a Lyft driver, however, determining liability can be complex because of the issues involved.
Your options for compensation will depend on the driver's status and activity at the time of the accident:
If the driver was

not logged

into the rideshare app at the time of the crash, you would not receive insurance coverage or compensation from the rideshare company and have to look to the driver's personal insurance policy for money.
If the driver

was

logged into rideshare the app but had not accepted a ride request, you could receive up to $50,000 per person and $100,000 per accident for bodily injury, and up to $25,000 for property damage, from the rideshare company's policy.
If the driver was logged into the rideshare app and had accepted a ride and was on the way to pick up a rideshare passenger, or if the driver had a rideshare passenger in the vehicle, the company's commercial policy will provide up to $1 million in liability coverage.
Why You Need a Lawyer for a Rideshare Accident Claim
After a rideshare accident, it can be difficult to know what to do next. There are multiple options for compensation, but your optimal pathway will depend on the circumstances surrounding the collision. In these situations, you need an experienced rideshare lawyer who knows where to look for coverage so you can receive a maximum recovery.
At Dan Chapman & Associates, our accident attorneys in Athens have years of experience representing victims of negligent rideshare drivers. We can assess your case carefully, help strategize your next steps, and calculate your potential award. During your claim, we will work diligently to build a compelling case proving your right to a fair settlement.
Schedule a Free Consultation with Dan Chapman & Associates
Being involved in a rideshare collision can be a scary experience. If you find yourself in this situation, the Athens rideshare accident lawyers at Dan Chapman & Associates can help.
Contact us today at (678) 504-8564 to schedule a free case consultation and identify your optimal path to financial recovery.