Brain damage can have lasting physical, psychological, and financial effects. If you suffered a brain injury because of the negligent actions of another person or business, you may qualify for a lawsuit against the at-fault party.
In these situations, trust the experienced Conyers injury attorneys at Dan Chapman & Associates to hold the at-fault party accountable and to recover full compensation for your harms and losses. Our Conyers brain injury lawyers have over 100 years of combined legal experience and will work diligently to craft a compelling case in your favor.
Why Choose Dan Chapman & Associates for Your Brain Injury Claim?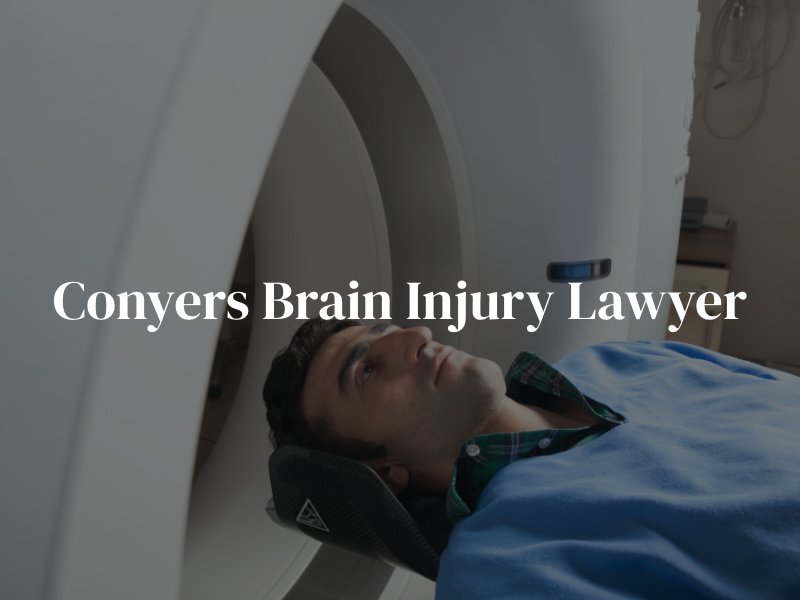 Our firm is dedicated to securing your highest possible award. We have helped thousands of people recover compensation for medical care, lost wages, and more.

We understand how difficult a brain injury can be to diagnose. Our lawyers have worked with neurologists and therapists who specialize in mild and severe brain injuries and we can help you prove these injuries so that you can focus on recovery, not litigation.

Our firm operates on a contingency fee basis for maximum affordability. If we don't secure a financial award in your case, you will not be charged any legal fees.
What Is a Brain Injury?
The brain is one of the most important organs in the human body. It controls our thoughts, memories, emotions, impulses, and many other functions necessary for daily life. Any damage to the brain can lead to lifelong complications.
There are two categories of brain injuries: acquired and traumatic. Acquired brain injuries are caused by internal factors like stroke or oxygen loss. On the other hand, traumatic brain injuries (TBIs) occur due to an external force or injury.
While symptoms of brain injuries can vary, some of the most common signs include a loss of consciousness, slurred speech, confusion, headache, and nausea. If you experience any type of head injury or develop unusual symptoms after an accident, it is critical to receive emergency medical attention as soon as you can.
Common Causes of Brain Injuries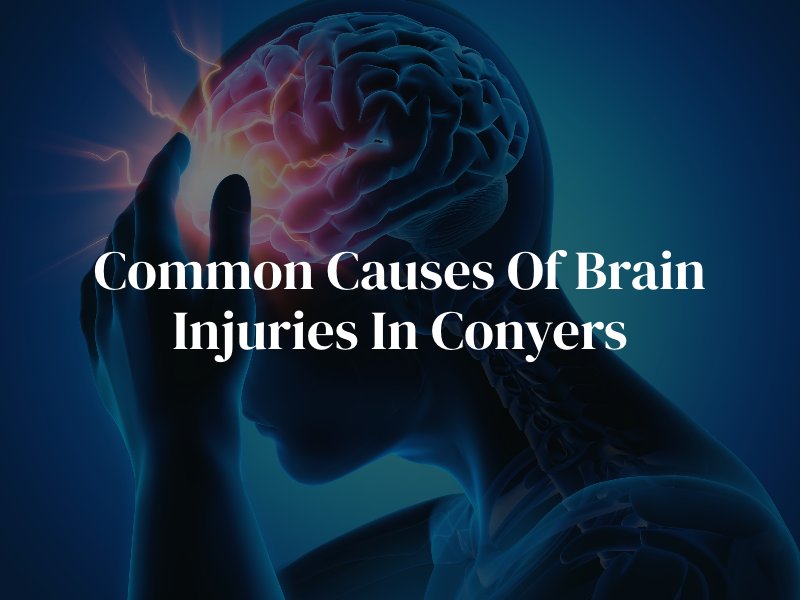 A variety of factors can cause traumatic brain damage. Usually, these injuries occur as a result of a blow to the head or when an object penetrates the skull. 
Some of the most common causes of TBI include the following:
Slip and fall accidents

Medical malpractice

Dangerous and defective products

Acts of violence, such as assault

Bicycle accidents

Pedestrian accidents

Sports-related accidents

Workplace incidents
If you or a loved one experienced a head injury as the result of a car accident, please reach out to our car accident attorneys in Conyers today!
Symptoms of a Traumatic Brain Injury
The symptoms of a brain injury can vary based on a number of factors, including severity, location, and even the age of the victim. A TBI may show start showing symptoms immediately after the accident, or symptoms may develop slowly over the next few hours or days. If you notice any unusual symptoms after suffering a head injury, it is critical to seek medical attention right away; an untreated TBI could be life-threatening or result in permanent disabilities.
Mild TBI Symptoms
In our opinion, there is no such thing as a mild brain injury, but medical science recognizes these injuries so we will call it what they call it. A mild TBI sometimes called a concussion, may result in physical, cognitive, and/or emotional symptoms. You may also notice changes in your sleep patterns and other behaviors. Sensory problems, like blurry vision, dizziness, ringing in the ears, or a bad taste in your mouth may also occur.
Symptoms of a mild TBI may include, but are not limited to:
Headaches

Nausea and vomiting

Dizziness

A loss of balance

Fatigue or drowsiness

Vision problems

Sensitivity to light and noise

Fogginess or grogginess

Difficulty thinking clearly

Attention or concentration problems

Sudden changes in mood or mood swings

Difficulty with long-term or short-term memory

Loss of consciousness for a few seconds to a few minutes

Difficulty sleeping or sleeping more than usual

Feeling confused or disorientation
Moderate to Severe TBI Symptoms
Moderate and severe brain injuries may result in the same signs and symptoms of a mild TBI. You may also experience the following symptoms within the first few hours or days following the initial trauma:
Coma

Slurred speech

Confusion

A persistent or worsening headache

Convulsions or seizures

Loss of coordination

Inability to wake up

Repeated vomiting or nausea

A dilated pupil in one or both eyes

Weakness or numbness in the fingers or toes

Loss of consciousness that lasts for several minutes to hours

Unusual behavior, such as aggression or agitation
Symptoms of TBI in Children
Traumatic brain injuries can be difficult to spot in children when compared to adults, especially in infants and toddlers. Very young children often lack the skills to adequately communicate symptoms like headaches or sensory problems.
If your child has suffered a TBI, you may observe the following symptoms:
Drowsiness

Seizures

Sadness or depression

Changes in sleep habits

Unusual irritability

Changes in eating or nursing habits

Inability to concentrate or pay attention

Persistent crying
In some instances, a brain injury can lead to the death of an individual. If this is the case for your loved one, speak to a Conyers wrongful death attorney to learn more about your case.
When to See a Doctor for a TBI
TBI symptoms can appear slowly and may not be apparent at first. However, the longer a brain injury goes untreated, the more serious it becomes. For this reason, you should always go to the doctor if you suffer any type of blow to the head, even if you feel fine after the initial accident. If you notice any behavioral changes or other signs of a TBI, you should seek emergency medical treatment.
Legal Options for Brain Injury Victims in Conyers, GA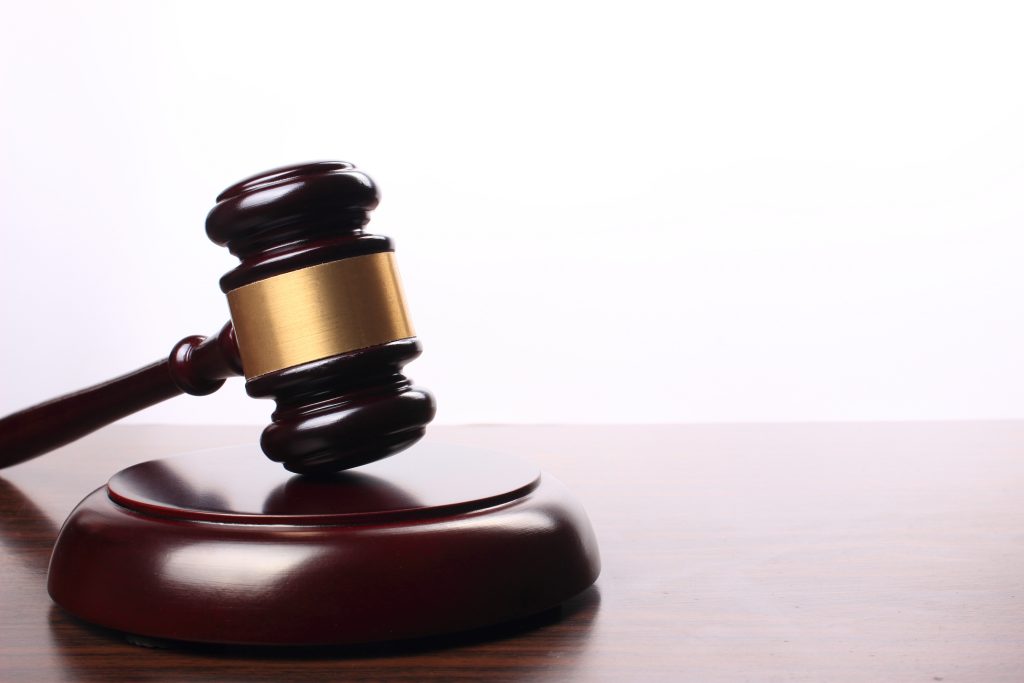 Many TBI victims develop their injuries because of another person's negligent, reckless, or intentional actions. Whether you are hit by a drunk driver or injured during an assault, you deserve justice.
Georgia law allows brain injury victims to pursue legal action against the person or entity responsible for their damages. If you believe that someone else is at fault for your injury, you could file a claim against him or her and recover compensation for medical care, lost wages, and more.
The type of claim that you can file will depend on the circumstances surrounding your case. For example, if you are injured in a rideshare accident, you could file an insurance claim or lawsuit against the driver and their employer with the help of a Conyers Rideshare accident attorney. If your TBI occurred due to a defective product, you could file a product liability lawsuit against the item's manufacturer. Just ask a product liability lawyer in Conyers how to get started!
An experienced Conyers brain injury lawyer from Dan Chapman & Associates can help you understand what to do next. We have represented brain injury victims in a wide range of claims and can identify your optimal path to maximum compensation.
What Damages Are Available in a Brain Injury Lawsuit?
A brain injury can have a lasting impact. You could face difficulties eating, walking, getting dressed, performing your job, and handling many other daily tasks. You may require lifelong medical care and need specialized treatment, like rehabilitation. The psychological impact of a TBI can be significant.
By filing a brain injury lawsuit, you could recover compensation for the economic and non-economic damages that you suffered due to the injury. Examples of damages available in Georgia brain injury lawsuits include:
Past and future medical expenses

Lost wages

Loss of future earnings

Property damage

Emotional distress

Permanent disability

Loss of quality of life

Depression and anxiety

Mental anguish

Disability accommodations
Treatment Options for a Brain Injury
A brain injury can have a major impact on your daily activities and affect your quality of life. However, a variety of treatments can help you recover from the initial trauma and may reduce the impact of your physical, cognitive, and emotional symptoms. Your optimal course of treatment will depend on the severity of your injury and the area of the brain that was affected.
Treatment for Mild TBI
Treatment for a mild TBI does not usually require invasive or intensive treatment. Usually, your medical provider will advise you to rest and take over-the-counter medications to treat certain symptoms. For example, you may take pain relievers to treat your headache. You will need a trusted person to monitor your condition and take you to the doctor if you experience any worsening, new, or persistent symptoms.
You can return to your daily tasks slowly after a period of rest, which usually lasts for a few days or until your doctor states that it is appropriate. You may need to take frequent breaks or reduce activities that involve significant cognitive or physical output.
Emergency Interventions
When you go to the hospital with a moderate or severe TBI, the medical staff will focus on stabilizing your condition and addressing any dangerous complications. For example, your doctor may focus on ensuring that you have enough oxygen and an adequate blood supply. Your medical team will also monitor your blood and brain pressure and may place a brace to stabilize your head and neck.
Surgical Procedures
In some cases, your medical team may recommend emergency surgery to prevent dangerous complications and minimize further damage to your brain. Depending on the nature and severity of your TBI, you may undergo a procedure to address the following issues:
Blood Clots:

Clotted blood can cut off the oxygen supply to the brain, resulting in serious and sometimes life-threatening complications. Your medical team may perform surgery to remove clots outside or within the brain to restore blood flow to the brain, relieve pressure and prevent any damage to brain tissue.

Bleeding in the Brain:

Traumatic brain damage can lead to sometimes uncontrollable bleeding in the brain, which can be very dangerous. Your doctor may perform surgery to stop the bleeding, relieve pressure on the brain and prevent further complications.

Skull Fractures:

During an accident, a skull can fracture and break. You may undergo surgery to repair the fracture and remove pieces of skull bones and debris around the injury to facilitate the healing process.

Intracranial Pressure:

In some cases, cerebrospinal fluid may accumulate in the skull. In others, the brain tissue may swell to a point where it causes immense pressure. You may undergo surgery to relieve this pressure by draining the accumulated fluid or temporarily opening the skull to relieve the swelling.
Medications
Once your condition is stabilized, your doctor may prescribe medications to limit secondary damage to the brain and address certain complications. These drugs may include anti-seizure medications, drugs to induce temporary comas, and diuretics, which reduce fluid and relieve brain pressure.
Rehabilitative Therapies
Many people who have suffered a brain injury require some type of rehabilitation. These therapies are designed to help learn basic skills, cope with the impact of the injury, and regain a certain level of independence. Rehabilitation usually begins at the hospital and continues at an inpatient or outpatient treatment facility.
You may have a team of rehabilitation specialists on your side, such as:
Occupational therapists, help patients learn skills to perform everyday activities

Speech and language therapists, who work to help improve communication skills

Physical therapists, help patients relearn movement skills like walking and balance

Physiatrists, who are trained in physical medicine and help manage medical rehabilitation processes

Vocational counselors, who help patients return to work and provide resources to address workplace challenges
Why You Need an Attorney to Represent Your Brain Injury Claim
Brain injury lawsuits can be complex, especially if this is the first time that you have pursued legal action. You may require thousands of dollars in compensation to pay for your lifelong care. You need to be able to show that the other party truly caused your accident, which can be challenging without clear evidence and deep legal knowledge.
In these situations, you need an attorney on your side who can represent your case and protect your best interests during litigation. The Conyers brain injury attorneys at Dan Chapman & Associates can provide several benefits to your case:
Deep knowledge of the litigation process

Experience working within the Georgia court system

The ability to prepare you for each step of your case

The ability to accurately calculate your potential settlement

Experience representing brain injury victims in court and during negotiations

Access to expert witnesses who can testify on your behalf

Strong negotiation skills that can be leveraged when dealing with insurance companies
If you are pursuing legal action after a brain injury, do not go alone. Enlist the support of an advocate who can help you recover the compensation you deserve and guide you toward the best possible outcome.
How Long Do You Have to File a Brain Injury Lawsuit in Georgia?
There are time limits to filing a brain injury lawsuit in Georgia. According to the state's statute of limitations, you must file a personal injury lawsuit within two years from the date of your injury. If you do not file within this period, the court will likely dismiss your case. To protect your right to recovery, speak to an attorney as soon as possible following the incident.
Contact a Conyers Brain Injury Lawyer Today
If you developed a brain injury because of another person's negligence, you deserve justice. Trust the experienced lawyers at Dan Chapman & Associates to fight for your right to maximum compensation.
Contact us today to schedule your free consultation with a Conyers brain injury lawyer. Our attorneys will carefully evaluate your case and explain your legal options.