Delivery drivers for companies like Amazon, UPS, and FedEx have a responsibility to drive safely. Unfortunately, not all these couriers uphold this important duty. Dangerous collisions involving delivery drivers occur every year, resulting in serious injuries and devastating fatalities.
These types of commercial vehicles carry big insurance policies. You should never attempt to handle one of these claims on your own because the commercial insurance companies use highly trained adjusters to try to quickly settle your case for pennies on the dollar before you can seek legal help. Our law firm has the experience you need with the claims to help you secure a full and fail settlement on your injury claim.
If you were injured by a delivery vehicle driver, the lawyers at Dan Chapman & Associates can help you secure full and fair compensation. Our firm has helped injured people across the state of Georgia, and our Conyers delivery vehicle accident attorneys will work diligently to hold the driver and his or her employer accountable.
Why Choose Our Conyers Delivery Vehicle Accident Attorneys?
Our injury lawyers in Conyers have spent their careers fighting for the rights of injured people. We have over 100 years of combined legal experience and have recovered millions for our clients.
Dealing with corporate insurance companies can be difficult. Our lawyers are former insurance attorneys and will leverage their experience to prove your right to recovery.
We handle all cases on a contingency fee basis and offer free, confidential case evaluations for maximum affordability.
Common Causes of Delivery Vehicle Accidents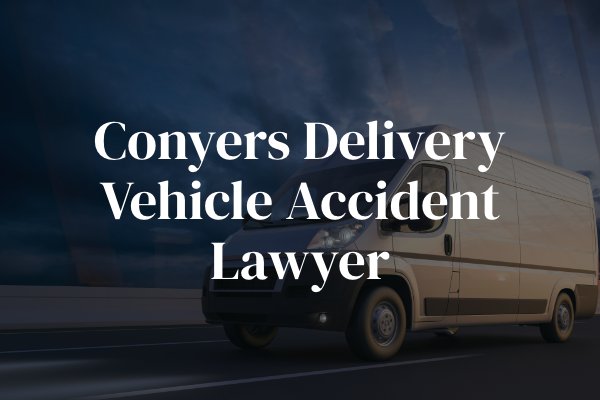 Delivery companies often place undue pressure on their drivers to drop off packages and adhere to tight, often unrealistic schedules. As a result, many delivery drivers cut corners and commit dangerous acts to save time that lead to serious accidents.
For example, a delivery driver may drive well over the speed limit to try to make a delivery on time. Others might run stop signs or red lights, make unsafe lane changes, or fail to check for pedestrians when pulling in and out of driveways. 
Other causes of delivery vehicle accidents include:
Distracted driving due to electronics within the vehicle
Fatigued or drowsy driving caused by unrealistic schedules
Failure to yield the right of way
Making an unsafe left turn
Driving under the influence of medication
How a Personal Injury Attorney Can Help Your Delivery Vehicle Accident Claim
Because Georgia is a fault-based accident state, delivery drivers and their employers are liable for any accidents that they cause. However, knowing what type of claim to file, where to find the right insurance coverage and proving violations of the law and industry driving standards can be very complex, especially when an international delivery company is involved. If you find yourself in this situation, don't try to handle it on your own. You need an experienced attorney who can protect your best interests.
At Dan Chapman & Associates, our attorneys are dedicated to protecting the rights of injured delivery truck accident victims. Hiring our experienced lawyers can provide several important advantages to your case, such as the following:
Your Conyers accident lawyer can evaluate your claim, help uncover all of the liability insurance available, and identify all potential defendants.
Your attorney can conduct a full investigation into your accident and gather the evidence needed to make a compelling case to get you the maximum recovery.
Your lawyer can identify all potential legal claims, including claims for the negligent training and supervision of a driver, or the negligent hiring or retention of a driver with previous driving violations.
Schedule a Free Consultation with Dan Chapman & Associates Today
If you were injured by a package delivery driver, the Conyers delivery vehicle accident attorneys at Dan Chapman & Associates help you bring a claim for your injuries, harms and loses, and help you recover maximum compensation.
Contact us today at (678) 504-8564 to schedule a free case consultation and learn more about your legal options.