Driving under the influence of alcohol or drugs is illegal for a reason. These substances impair many of the bodily functions that are required to safely drive a vehicle on the roads of Georgia. Sadly, the laws against driving intoxicated are ignored by many drivers and thousands of people in Georgia are severely injured or killed by DUI drivers every year. According to the Georgia Governor's Office of Highway Safety, alcohol-impaired driving led to 402 deaths in Georgia in 2020 alone, and this was a year that driving was down because of COVID.
If you were injured by an intoxicated driver, you deserve justice! At Dan Chapman & Associates, our Conyers accident lawyers are dedicated to helping injured people secure the maximum compensation that they deserve. This includes compensatory damages to compensate our client for property damage, medical bills, lost wages, and pain & suffering, in addition to punitive damages, which is money paid to our client as a punishment against the DUI driver.
Why Choose the Attorneys at Dan Chapman & Associates?
With over 100 years of combined legal experience, our attorneys have represented injured people across Georgia in their insurance claims or lawsuits.
We have secured millions of dollars in settlements and jury verdicts on behalf of our clients. Our firm will work tirelessly to recover the compensation that you deserve.
Financial hardship is common after an unexpected injury. Our law firm works on a contingency fee basis— meaning you only pay us if we win your case and get you a recovery of money.
You Can Pursue Civil and Criminal Charges as a DUI Victim
Driving while intoxicated is a criminal offense in Georgia, and the DUI driver can be criminally punished by fines, jail time, probation and other criminal penalties. As a victim of a DUI accident, you have the right to punish the DUI driver with civil damages called punitive damages. Punitive damages have nothing to do with compensation for injuries, but are to punish and deter the DUI driver from their criminal actions. In a criminal case, the fines and penalties are paid to the State. In a civil case brought by our law firm, the punitive damages recovered are paid to you.
Below are a few examples of compensatory damages available in a DUI accident lawsuit:
Medical expenses for your accident-related injuries
Repairs and replacements for any property damage
Lost wages and a loss of future earning potential
Past, present, and future physical and mental pain and suffering
Loss of the enjoyment of life because of your injuries
Damages paid to a spouse because of the losses suffered and harms done to their relationship with the injure spouse, which is called loss of consortium claim.
How to Prove a DUI Lawsuit in Georgia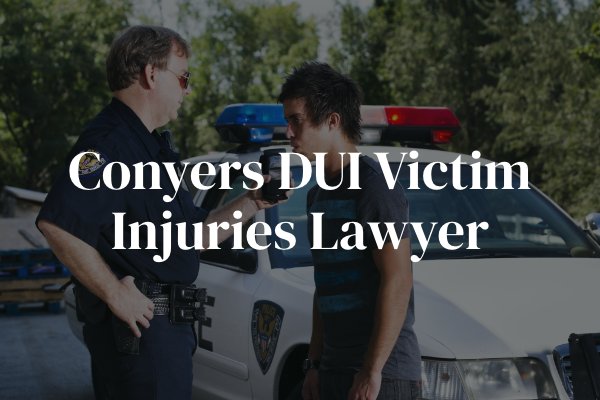 In a criminal case against an impaired driver, the prosecution will need to show that the defendant committed the crime beyond a reasonable doubt. A civil lawsuit has a lower standard of proof. To recover a settlement against the DUI driver in a civil case, you will need to show that the driver committed the negligent act while intoxicated but the burden of proof is by a preponderance of the evidence, which means it is more than 50% likely.
Your experienced DUI driver lawyer will help you gather enough evidence, such as police reports, police videos, blood toxicology reports and other records and evidence to clearly establish the following four facts:
The DUI driver owed you a duty to follow traffic laws and operate his or her vehicle with a reasonable level of safety and care.
The DUI driver breached his or her duty of care by driving while intoxicated and in an unsafe manner.
The DUI driver's breach of duty caused your accident and your injuries.
You suffered injuries, damages, harms, and losses because of the negligence of the DUI driver which will be proven by the evidence your DUI attorney has collected.
Schedule a Consultation with a Conyers DUI Victim Injuries Lawyer
If you were injured by an intoxicated driver, the experienced DUI injury lawyers at Dan Chapman & Associates can help you hold that driver accountable and will get you the maximum recovery of the money for your case.
Contact us today for a free case consultation with a Conyers DUI victim injuries attorney. You can call our firm at (678) 504-8564 or fill out our online form.