Rideshare services like Uber and Lyft are very popular in Conyers. While these services advertise a safe, affordable ride, serious accidents involving rideshare drivers occur every year. If you were involved in an accident with a rideshare driver, you have too much to lose to try to handle your injury claim on your own.
If you find yourself in this situation, the experienced Conyers rideshare accident lawyers at Dan Chapman & Associates can provide the legal power and assistance that you need to get a maximum settlement. Our firm will help you navigate the complex issues involved in these claims and work hard to recover the full compensation that you deserve.
Why Choose Our Conyers Rideshare Accident Lawyers?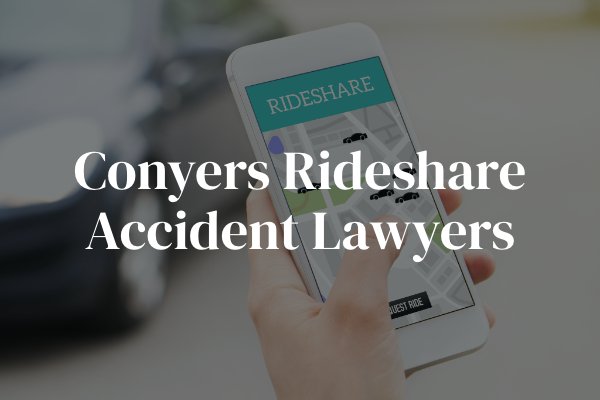 With millions of dollars recovered for our clients, our law firm has a strong track record of success. We will fight to secure the highest possible settlement in your rideshare accident claim.
We handle rideshare accident cases on a contingency fee basis. Under this arrangement, you pay nothing up front and owe us nothing unless we win your case.
Our attorneys have won multiple awards and accolades, including membership in the Million Dollar Advocates Forum, the Multi-Million Dollar Advocates Forum, and the Top 100 in Georgia.
What Compensation Is Available After an Uber or a Lyft Accident?
Being involved in any type of car accident can result in serious injuries. You can also experience financial hardship, physical pain, and emotional suffering. By filing a claim against the rideshare driver who caused your accident, you can secure compensation for both economic and non-economic damages.
These damages may include:
All medical expenses associated with your accident
Lost income and loss of earning capacity
Property damage sustained in the collision
Chronic pain
Permanent disability
Emotional distress
Loss of quality of life
Legal Options for Injured Rideshare Accident Victims
Rideshare accidents follow a different set of insurance rules compared to collisions involving non-commercial drivers.
If the rideshare driver caused the collision; you could recover compensation in one of two ways. First, you could pursue a claim against the driver's personal automobile insurance policy. Second, you could pursue a claim against the rideshare company's insurance policy. Your legal options will always depend on what the Uber or Lyft driver was doing at the time of the accident. This is why an experienced rideshare lawyer is needed on your side.
Your options for compensation will depend of the driver's status and activity at the time of the accident:
If the driver

was not

logged into the rideshare app at the time of the crash, you would not receive insurance coverage or compensation from the rideshare company and have to look to the driver's personal insurance policy for money.
If the driver

was

logged into the rideshare opp, but had not accepted a ride request, you could receive up to $50,000 per persona and $100,000 per accident for bodily injury, and up to $25,000 for property damage, from the rideshare company's policy.
If the driver was logged into the rideshare app and had accepted a ride and was on the way to pick up a rideshare passenger, or if the driver had a rideshare passenger in the vehicle, the company's commercial policy will provide up to $1 million in liability coverage.
Contact Dan Chapman & Associates for a Free Consultation
Were you injured in an accident involving an Uber or Lyft driver? The attorneys at Dan Chapman can help you recover the compensation that you deserve. Contact us today at (678) 504-8564 to schedule your free case consultation and learn more about your legal options.