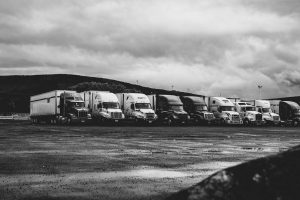 Accidents involving large trucks, (also known as 18 Wheelers or Semi) usually result in a lot of damage to the vehicles.  As a result, most people hurt in a crash caused by an 18 Wheeler suffer big injuries.   In fact, data shows that accidents involving big trucks kill or seriously injure thousands of people in the United States every year.  Who pays for the medical expenses of the people hurt in truck crashes? Find the answer to this question, as well as more useful info on truck accident laws, continue reading below:
Truck Accidents
Truck accidents, as their name suggests, always involve at least one large vehicle or a truck. This vehicle can be anything from a semi, tractor-trailer, or 18-wheeler, or another commercial truck, such as a box truck or dump truck.  In most cases, it isn't the big truck that sustains the most damage.  Most are built like a tank.  Instead, it is the much smaller vehicle that is hit by the truck that suffers the most damage.  Not surprisingly, statistics show that the people inside those smaller vehicles are hurt much more frequently than truck drivers are hurt (84% vs.16%).
What Happens After the Accident?
It is well known that big trucks often cause big injuries when they crash into a car.  The majority of people involved in a crash with a big truck go to the hospital after the crash, and many of them have long and expensive stays at the hospital beginning. These extended hospital stays, often with additional time spent at a rehab facility after discharge from the hospital, results in massive medical bills and lost wages for the injured person.  Most people are not able to afford all of that financial loss, and the whole thing becomes even worse if they lose their job. Most are left wondering what to do?  The worst thing they can do is to trust the insurance company representative trying to offer them a settlement.  Their job is not a fair settlement for the injured person.  Their job is to settle the claim quickly and cheaply to save the insurance company money.  They know if the injured person gets to an experienced truck wreck lawyer, the claim will cost the insurance company a lot more money.
Pursuing Compensation
If you have been involved in a truck accident caused by a negligent truck driver, you do not want to take on the trucking company and its insurance company on your own.  The deck is stacked against you.  These are trained professionals who know how to talk to families to build trust so they can negotiate low ball settlements.  We see it often, sometimes even too late after a settlement is been done.  Later, the injured person realizes they settled too early and too cheap before they knew how bad they were hurt.  At that point, it is too late.  They have often cost themselves hundreds of thousands of dollars by not seeking experienced legal help.
When you are hurt in a crash with a Semi, you can recover from your property damage and bodily injuries.  Here is a list of some of the damages you could get compensated for:
Ambulance costs
Emergency room care
Initial and continued hospitalization
Any surgical procedures
Anesthesia fees
Any diagnostic tests
Doctor visits and specialist fees
Any rehab you may need
Wheelchairs, prosthetics, crutches
Assistive nursing care
Home modifications
Past lost wages
Future lost wages
And much more
Contact An Experienced Trucking Attorney
You would not go see a kidney doctor for a problem with your heart.  Don't go see just any lawyer about a truck crash.  Truck wrecks can involve both state and federal laws and complex regulations.  A lawyer who does not routinely handle truck wrecks will not normally have an understanding of the federal motor carrier safety regulations and frequent violations by truckers.  We know how to investigate and find those violations and those findings can add significant compensation to damages awarded in trucking cases.
Contact Dan Chapman & Associates and let a team of experienced trucking lawyers protect your right to a full recovery from a truck crash. Schedule a free case evaluation today!