Many Conyers residents use food delivery services like Grubhub, Door Dash, Postmates, and Uber Eats on a regular basis. Pizza businesses, such as Dominos, Papa John's and Pizza Hut also deliver food around Rockdale County. These companies rely on independent drivers to complete these deliveries, usually driving their own private vehicles. These drivers are also normally in a hurry to get to a location because time is money. The faster the delivery, the bigger the tip and the more deliveries they can make in a day. As a result, these drivers often make careless errors and their negligent driving mistakes cause big accidents.
If you were injured by a food delivery driver, you deserve fair and full compensation. The Conyers personal injury lawyers at Dan Chapman & Associates can assist you with your claim. Our attorneys have handled a number of claims against food delivery drivers and know where to look to find the right insurance coverages.
Why You Need an Attorney from Dan Chapman & Associates
With over 10 years of legal experience, our lawyers are dedicated to protecting the rights of injured victims. We will always put you and your needs first. 
Some of our attorneys are former insurance lawyers who understand the tactics of these large corporations to try to avoid responsibility. We will leverage our unique experience to make the strongest claim on your behalf.
If we do not win your case, you will owe us nothing. We handle food delivery accident claims on a contingency fee basis meaning you pay us nothing if you recover nothing.
Common Causes of Athens Food Delivery Accidents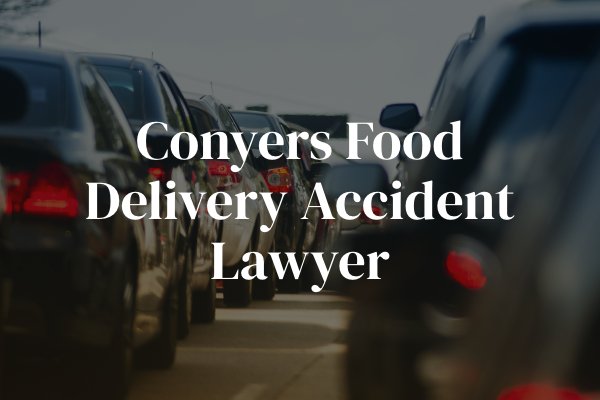 In Georgia, a food delivery driver commits an act of negligence when he or she fails to follow traffic laws of Georgia or when he or she fails to drive in a safe and careful manner.
Here are some of the negligent driving actions we see that lead to food delivery driver accidents:
Driving over the speed limit
Following too closely
Failure to yield the right of way
Running a red light or stop sign
Making an improper left turn
Driving under the influence of drugs
Driving while distracted by a cell phone
Making an unsafe lane change
Who is Liable for a Food Delivery Accident?
Most people's first concern after an accident is who will pay for the damage done. Georgia law requires all drivers to carry liability insurance, but the minimum coverage is $25,000 per per person. Many insurance companies will not allow their insured to use their personal insurance when driving for a food delivery company and will deny coverage if there is a crash during a delivery. For this reason, we mostly have to look for commercial insurance to pay for the injuries, harms and losses suffered by our client.
For example, Uber Eats will provide up to $1 million in liability coverage if the driver was fulfilling an active delivery at the time of the collision. However, if the driver was not logged into the Uber Eats app, there may just be $25,000 in liability coverage available if they don't still try to deny coverage. For these reasons, you need an experienced attorney on your side. Don't try to handle this claim on your own. You have too much to lose.
Contact a Conyers Food Delivery Accident Lawyer Today
Delivery drivers who cause accidents deserve to be held accountable. If you were involved in an accident with a food delivery driver, the attorneys at Dan Chapman & Associates can help you recover a fair and full settlement. Contact us today to schedule a free case consultation and learn more about your legal options.