Georgia Social Security Disability
Georgia SSDI Law – Free Case Evaluation
Navigating the Social Security Disability process is complicated. If you have a disability that will keep you from working for a year or longer, the experienced personal injury lawyer in Georgia at Dan Chapman and Associates, LLC can help.
Our attorneys are experts in SSDI applications and can get you the benefits you're entitled to. They will review your case, medical history, and other determining factors the presiding judge considers and will aid in overturning your previously denied claim.
The consultation is free and you will owe nothing unless benefits are awarded.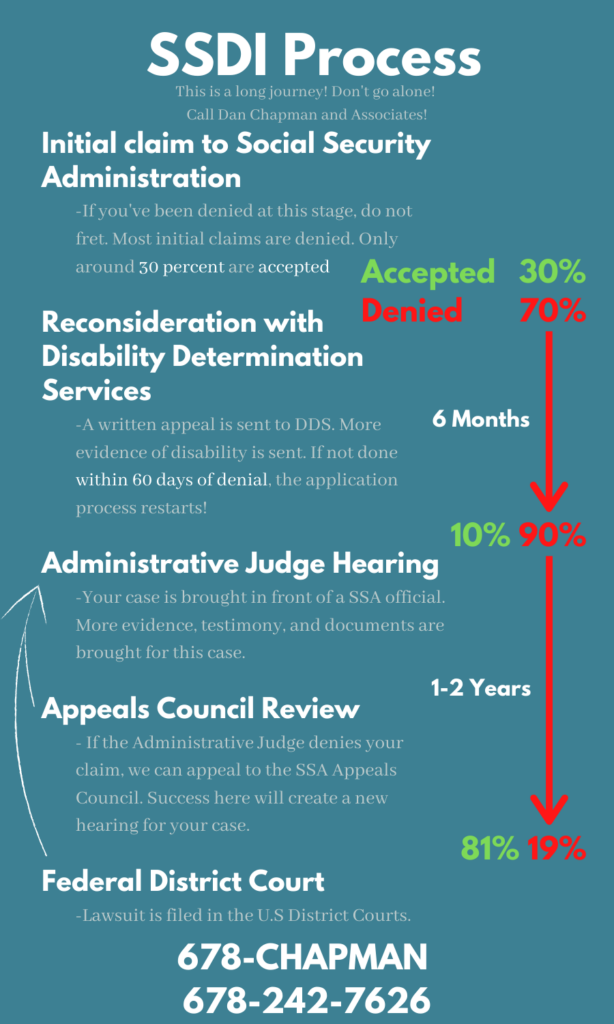 This is where the experienced lawyers at Dan Chapman and Associates help and why it increases your chances of being approved. We know how to apply. We know how to appeal. We know the whole process. So if you have been injured on the job, are unable to return to resuming normal work functions, or have been denied SSDI benefits call us at 678-242-7626. Every citizen has paid for this insurance through taxes, and you're entitled to those benefits in your time of need. This is a free assessment and there are no fees unless we win your case.
Request Free Consultation
"*" indicates required fields